Advanced Aircraft Simulation Centre for Tactical Training
October 7, 2021
Advanced Aircraft Simulation Centre for Tactical Training
The International Tactical Training Centre (ITTC) is a unique resource providing bespoke training to military and aerospace customers around the world, a division of the International Test Pilots School (ITPS) in London, Canada, ITTC draws on over twenty years of experience providing advanced tactical training to over 25 air arms.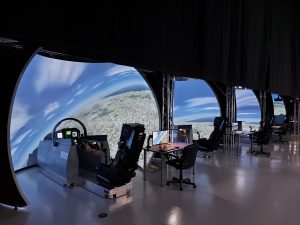 F-18 domed simulators
The Advanced Aircraft Simulation Centre (AASC) is a unique facility established by ITTC to leverage advances in simulation to enhance the learning experience whilst driving down costs. The centre uses Virtual Reality (VR) and Mixed Reality (MR) as well as conventional simulators. An early adopter of such tactical training simulation, ITTC invested in this world-class facility to implement modern training curricula leveraging the latest synthetic technology. The AASC comprises four F-18 domed simulators, four F-35 pilot stations, an AW139 rotary-wing simulator, a Boeing 787 full flight deck FBW simulator and an F-16 based Variability Stability System (VSS) engineering simulator used by the test pilot school.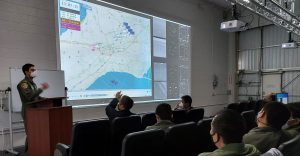 Mission lecture theatre
The AASC also contains a mission briefing room and a large lecture theatre for unpacking missions in a collaborative classroom style. Simulators are networked, and within a synthetic battlespace, complex missions include real-time ACMI (Air Combat Maneuvering Instrumentation) to monitor the progress of an exercise and post-mission debriefing.
Live Virtual Constructive Training (LVCT) allows for very realistic tactical training in complex scenarios at a relatively low cost. The facility is customizable to meet training needs with optional refuelling or simulating Airborne Warning and Control Systems (AWACS) assets and up to six additional adversary simulators.
The simulator centre includes virtual reality using VR 360˚ headsets with a synthetic image. Thus, students learn in a photorealistic immersive environment with extraordinary realism. The variety of available technologies allows ITTC to optimize training with the most advantageous devices.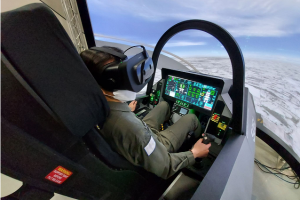 Student training using Virtual Reality headset and F-35 pilot station.
Bespoke Training Solutions
ITTC is both responsive and innovative. Brendan Pierce is the ITTC Deputy Head of Training, a former Royal Canadian Air Force pilot and a Fighter Weapons Instructor. Pierce says, "our expert instructors develop a recommended syllabus based on thousands of hours of tactical experience. That syllabus is then optimized in consultation with the customer to maximize its training benefit in accordance with their specific needs." As air arms are looking for advanced tactical training in multiple areas of proficiency, including 5th Gen. threat, new standoff weapons and cyber threats are disciplines to be addressed.
Presented with a request for advanced training for tactical transport crews by a Southeast Asian customer, ITTC brought its expertise to bear to develop a new program within 30 days.  ITTC can deliver a bespoke Advanced Airlift Tactical Training (AATT) course onsite at the customer's operating base. This course commences with ground training followed by a number of flight training sorties to increase a crews' ability to survive in real-world hostile missions. Courses fully optimize student learning with ground, simulation and flight training.
The Royal Malaysian Air Force contracted ITTC to provide a short-term solution to its fighter pilot training needs. ITTC provided at short notice, a program based on its upgraded L-39 jets and its advanced simulation capabilities. Anticipating the need for the FLIT graduates to go directly to F-18 and SU-30 conversion training, ITTC downloaded advanced training such as Beyond Visual Range (BVR) training to the RMAF FLIT course. The graduates of this program are now well into the tactical phase of conversion to the fighter and are performing well.
A Flexible Approach to Program Delivery by ITTC
ITTC customers are constantly looking for international standard training for their fighter pilots, helicopter pilots, fighter controllers, terminal attack controllers and Unmanned Aircraft Systems (UAS) crews. Places at military training establishments for military students are limited, often security restricted and extremely expensive. This is where ITTC excels, providing a single entity that can rapidly provide training solutions based on the expertise of its cadre of highly experienced instructors.
Delivery of the training is also flexible, with theoretical lecture modules deliverable as Computer Based Training, live-online, in the classroom in Canada or the customer's country. Similarly, practical training or flight training can be presented in Canada at ITTC's world class training facility and Advanced Aircraft Simulation Centre (AASC) or partly or wholly in the customer's country utilising national assets.