5th Gen Changing Tactical Training with Simulation
February 25, 2022
Billie Flynn, 5th Gen SME, will be presenting at the online Evolving Tactical Training with Innovation and Technology Seminar in May 2022.
5th Gen – Changing the Scope of Tactical Training
Hosted by the International Tactical Training Centre (ITTC)
Seminar date: 2 May 2022
Time: 08:45 – 13:00 EST
Cost: Free to defence and aerospace industry attendees
Register: info@ittc-canada.com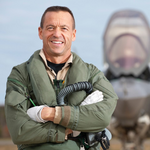 Billie Flynn recently retired from Lockheed Martin as a Senior F-35 Test Pilot and Fellow after a long and stellar career testing all variants of the F-35 as well as extensive F-16 testing. He is a 23-year veteran of the RCAF and began his military flying career as the first CF-18 pipeliner selected to fly the Hornet.
He culminated his Air Force career as the Commanding Officer of the Canadian Task Force Aviano leading combat operations with Operation Allied Force. Post-military, with over 5000 hours and 80 aircraft, he tested the Eurofighter Typhoon, Tornado and F-4 aircraft based in Munich, Germany.
Billie is a Fellow and Past President of the Society of Experimental Test Pilots (SETP). He is a graduate of the Royal Military College of Canada, the United States Naval Test Pilot School and holds multiple post-graduate degrees. We look forward to your participation Billie.