High Quality Instruction in the Role of a Fighter Weapons Instructor
March 11, 2022
Duane "Sugar" Lecaine, RCAF (ret'd), will be presenting at the online Evolving Tactical Training with Innovation and Technology Seminar in May 2022.
The Importance of High Quality Instruction in Tactical Training and the Role of a Fighter Weapons Instructor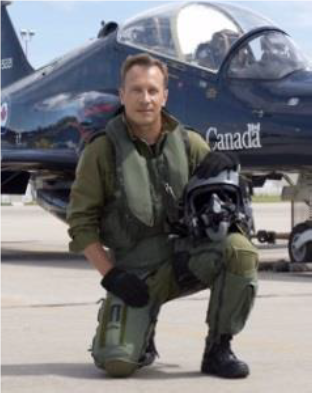 Duane joined the RCAF in 1987 after earning a degree in Biology and completed his wings training with the Canadian Forces in 1989.  He completed over 30 years of service as a Fighter Pilot before retiring in 2018.
He has served operationally on multiple CF-18 Squadrons, and has instructed on the CF-18, CF-5 and the Hawk, as well as completing an Exchange Posting as a USAF Aggressor flying the F-16C.  He has amassed over 8,000 hours of fighter flying, including 3,500 on the CF-18, 2,000 on the Hawk, and over 1,000 on the F-16.
Sugar is a Fighter Weapons Instructor, a FEWAR (Fighter Electronic Warfare Advanced Radar) Instructor, is a qualified JTAC, AFAC, and TACP, Category A Instructor (FLIT), Mass Attack Lead, Aggressor Syllabus Instructor and Mig1, Red Flag and Maple Flag Air Boss.  He has served as a Standards Officer multiple times at a Squadron and Wing level and completed 5 combat deployments as both a Fighter Pilot, and a JTAC, and prior to retiring had achieved almost every possible qualification available to an RCAF Fighter Pilot, however, his specialty is Large Force Employment planning, execution and debrief.
Duane has been a Contract Instructor for ITPS/ITTC since 2016 and has instructed on the ITTC Fighter Weapons Course, Advanced Tactics Course, and Mission Commander Course for the F-16, JAS-39 Gripen, F-5, Hawk, and T-50.  He currently resides in Alaska, and when not providing instruction for ITTC, he is developing his skills as a Bush Pilot.
Hosted by the International Tactical Training Centre (ITTC)
Seminar date: 2 May 2022
Time: 08:45 – 13:00 EST
Cost: Free to defence and aerospace industry attendees
Register: info@ittc-canada.com
For more information: ITTC Online Seminar 2022